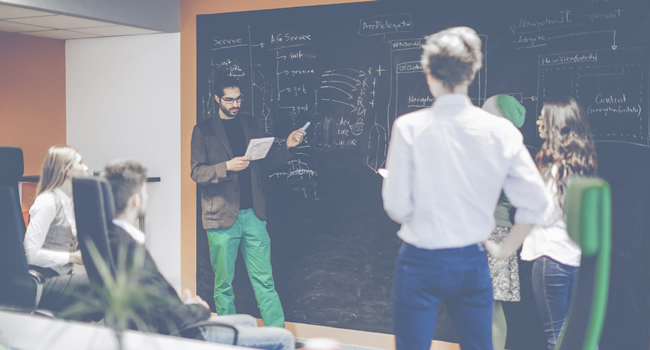 All-Inclusive Scrum Master Solution
This approach to Scrum Master training and certification incorporates everything you need to get Scrum Master Certified. There are no additional costs.
We include: online live virtual or self-led training, a PDF copy of the Scrum Body of Knowledge (SBOKTM Guide) textbook, 180 days of access to online study materials, examination costs, and certification.
Who is this Scrum Master Course designed for?
This course is designed for anyone who wants to learn how to be a Scrum Master and achieve a recognised Scrum Master Certification. No experience with Scrum is needed.
We also often have participants who are working informally in the role of Scrum Master, but who want to solidify their experience and knowledge with training and an international qualification.
Delivery Styles
This course is available for both individuals and teams. Learn more about in house training for teams in the "In-House" tab below.
Our online live virtual and self-led e-learning training options are available for anyone to book and complete.
"Live virtual" refers to trainer-led, online classes that take place on scheduled dates. "Self-Led" is on-demand training you can begin at any time and complete at your own pace. Learn more about connecting to live virtual or self-led training in our PDF brochure or the "Course Format" tab below.
Course Benefits
Course Outline
Course Format
In-House Training
Certification with Credibility

You're in Good Company
Trusted for Agile training by multi-national organisations from a broad spectrum of industries.